An Akatsuki only Naruto role play community who is looking to hire a Tobi for work! Come check out Cafe Akatsuki, we'll make sure your stay is most satisfying.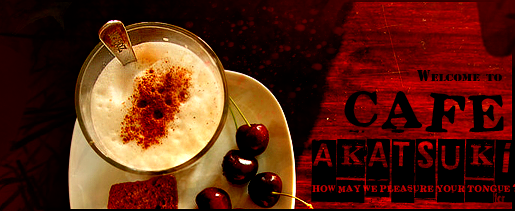 A PLACE OF WONDERS
They say the food's great at Cafe Akatsuki. But be warned... they're serving up a plate full of insanity. Five waiters with clashing personalities work the cafe floor, but even the simplest of tasks turn into unadulterated madness. With two quirky cooks, a crazy sous chef and only two managers, mayhem is guaranteed. Hungry yet? Please, take a seat and get ready for a meal you will never forget.

WANTED:
Tobi
Orochimaru
Zetsu
Sasori
Konan
Kakuzu
Kisame

Cafe Akatsuki is a real life, crack, humour, angst, drama and everything-in-between Akatsuki-only role play community. It's set in modern day Japan in a small Cafe downtown. The characters use PBs and both a personal journal and a community journal to post. Anything goes, but be ready: it's one hell of a game. If you have any questions, please contact
cake_is_a_bang or
cup_of_smex. We hope to hear from you soon.